Midflex 316L Flexible Flue Liner 150mm
Code:

35Z1506
£115.07 (ex. VAT)
£138.08 (inc. VAT)
Description
Product Details

TecnoFlex is a twin skin flexible chimney liner designed for gas, oil and multifuel, where the maximum flue gas temperature does not exceed 600°C.

Twin Wall Liner

Both inner and outer layers made from corrosion-resistant 316L stainless steel. 904L stainless steel is also available as an option for the extreme conditions found with appliances like slumbering stoves.
Corrugated outer skin for high crush resistance.
Extra smooth inner skin allows easy drain down of condensates, less opportunity for soot to collect in the joint area and ease of sweeping.
Inner skin remains overlapping to protect the joint from corrosion penetration even at minimum bending radius.
Inner skin remains smooth and protective even after the rigours of installation.
This product is HETAS approved.
Building control advise for installation is recommended aswell as a professional installer.
Related Products
More Info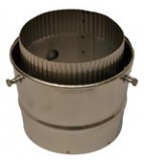 £23.00 (ex. VAT) £27.60 (inc. VAT)